EFFICIENCY EN QUALITY
As a storage and transhipment company, Silo Nieuwe Waterweg specialises in loading and discharging of small vessels, coasters, lighters/barges and truck (with or without weighing). Quality and efficiency are a priority. Transhipment is effected by means of grab, avoiding damage to the goods through operations. Waiting time before loading or discharging is minimised and we ourselves ensure efficient administration. This, combined with our position on the Nieuwe Waterweg, and with proximity to the motorway networks, allows the goods to continue unhindered towards your customers.
COMPLETE SERVICE
Transport of goods requires efficient logistics. Silo Nieuwe Waterweg will protect your interest, in close co-operation with specialities in these fields meaning a comprehensive service from start to finish. Including freight, transhipment, customs formalities, superintending and on-transport. For both short and long term contracts, large or small. As well as transhipment on the Nieuwe Waterweg, we can also offer the same service for larger vessels in Waalhaven Rotterdam. In addition to storage in our silo, we can arrange temporary storage in barges.
GMP-K23455/05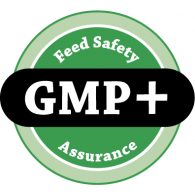 ISPS Certified